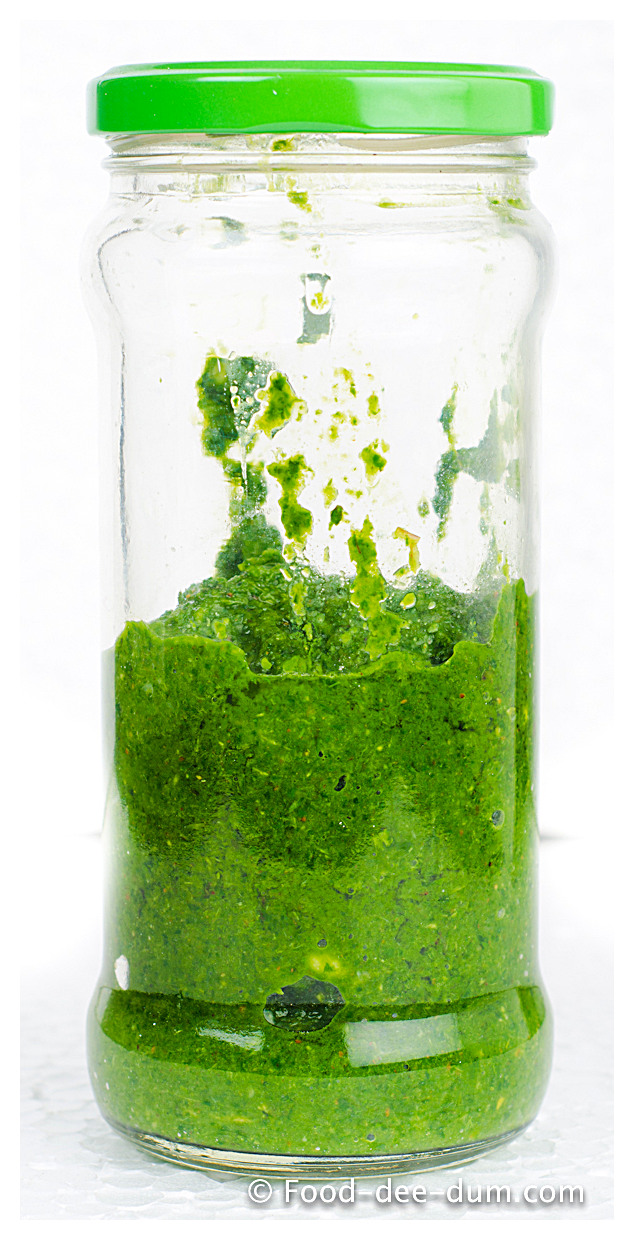 This chutney is a staple in most North Indian households! Everyone has their own variations, and I will share some of those with you as well. Suffice it to say that my fridge is never bereft of a jar of this versatile chutney. I use it as a dipping sauce (by itself or by adding a dash of Hot & Sweet Ketchup) for pakoras, samosas, kababs, chicken nuggets and much more. I also use it as a spread (with a dash of melted butter/ yoghurt to make it more spreadable) on toast and add sliced/ grated cucumber, sliced tomatoes or sliced boiled egg to make a breakfast sandwich! A tbsp of it can also add a lot of flavour to home-made bhelpuri or chaat!
It's very simple and pretty quick to make, the only tedious part being separating the mint leaves from the stalks. But if you have help in the kitchen or live in a part of the world that sells mint leaves in bags, then it should take you all of 5 minutes! And you will end up with a pretty, green & delicious chutney!
Here's what I used for about 1.5 cups of chutney:
2 cups loosely packed mint leaves
1/2 cup loosely packed cilantro leaves
3 fat cloves garlic
1-1/2 inch piece of ginger
1 small onion, cut into 4 pieces
5 green chillies (adjust according to your spice threshold. I suggest you don't eliminate the chillies but de-seed them if you want less heat, because the flavour is indispensable)
1 tsp salt
1/4 tsp sugar
1/2 tsp ground roasted jeera (cumin) powder
Juice of 2 lemons (approximately 1/4 cup)
Here's how I made it:
Gathered the ingredients…
I placed these in the grinder jar of my mixie…
And pulsed them for 1 minute…
It will be a little coarse at first like this…
Then I added the salt, sugar and jeera…
Then I added the juice of 2 lemons…
Then I whizzed it in the grinder for another 2 minutes until it was an (almost) smooth paste! I like to leave it slightly coarse for texture.. Checked it for salt and I was done!! So easy. This is what it looked like…
I put it in a clean bottle and stored it in the fridge. It keeps well for 1-2 weeks in the fridge, longer in the winter. As the days pass, the colour might darken but that doesn't affect the flavour or quality as all.
Here are a couple of variations:
Reverse the cilantro & mint proportion – due to cost/ ease of availability/ season. This is also as delicious but it's up to you which flavour you prefer to dominate the chutney.
Use amchur (dry mango powder) or tamarind paste as the sour ingredient instead of the lemon juice. I use amchur when I'm out of fresh lemon juice but not otherwise because the juice helps it grind better.  You should never add water to this chutney because it will separate from the solids when stored. Also, it will affect the life of the chutney.
In the summer, I use raw mangoes instead of the onions to give it body and flavour. In this case, I avoid the lemon juice else it will become too sour.
I can't think of any more but will update when I do! Now go on and make a jar for your fridge right away!