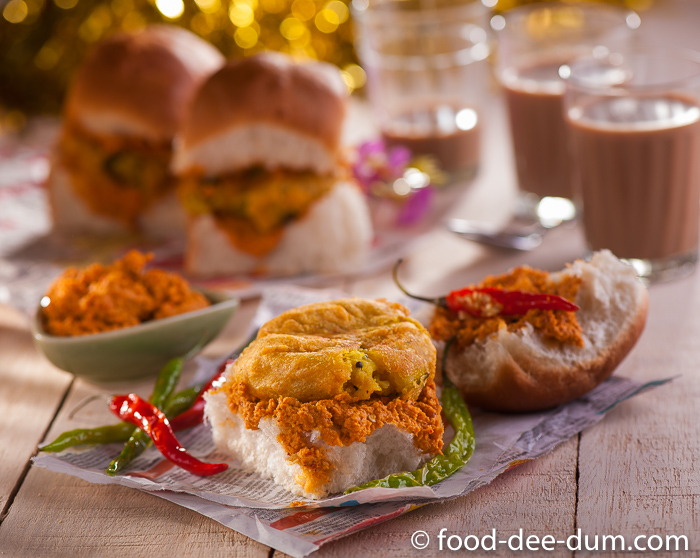 Bombay's favourite street food makes a perfect rainy-day snack in Delhi too!
Vada Pav is a popular Indian fast-food snack that originated in Maharashtra, had for breakfast, lunch, evening tea and any other time you please! In the same fashion that North-Indians consume bread pakoras and samosas!
Frankly, I have never had them in Bombay but have hogged on the "Garden Valla" Vada Pav in Pune – so called because the vendor's cart has been stationed near a garden for decades. Generations of his family have run the same business and I believe there are rumours of his home having been raided by the IT department because he was earning so much in cash and paying no taxes! I'm not sure how true this story is but I've heard it from numerous sources…
Getting back to the point, I have loved and craved those Vada Pavs since I was 5 years old and the trick is in the chutney. It's one of those food items that I was too scared to try, lest I screw it up. But last week, a new reader ( Nmaha ) specifically asked me for the recipe and I was determined to get over my fear of failure and try it at home! Apart from the fact that street food can never be 100% authentically replicated at home, I was quite happy with the result and, more specifically, the flavour. I was obviously not able to replicate the aroma of refried oil (used for days and weeks on end) or the dust, grime and sweat that go with street food! But it wasn't as difficult as I thought it would be to make.
(Update: finished pictures updated on 15th August, 2015)
Here's what I used for 6 Vada Pavs:
1 pack of 6 Pavs (I was forced to use the mass produced variety, which are actually not pav at all. They're just regular white bread in pav moulds. If you have a good local bakery around from where you can buy authentic pav, then don't compromise. It makes all the difference!)
For the Vadas:
10 small potatoes, boiled and peeled (I had only the tiny ones left – 4-5 medium or 3 large potatoes should yield the same)
1 tsp mustard seeds
4 stalks curry leaves
1/4 tsp haldi/ turmeric powder
Pinch asafoetida
1 tsp salt
2 fat cloves garlic
1-1/2 inch piece  ginger
4 green chillies (adjust according to spice threshold)
1/2 cup besan/ gram flour
1/4 tsp baking powder
1/2 tsp salt + 1/4 tsp haldi for the batter
Water to make batter
1 tbsp vegetable oil for tempering
Vegetable oil for frying
For the chilli garlic chutney:
1/3 cup garlic cloves
1/4 cup desiccated coconut (dried, shredded coconut available in grocery stores) (Update, 15th Aug, 2015: fresh grated coconut is even better. Use 1/3 cup if using fresh)
4 whole dried red chillies (adjust according to spice threshold)
1/2 tsp salt
1 tsp vegetable oil
Fried whole green and/or red chillies to serve.
Here's how I made them:
First I roasted the Chutney ingredients because they had to cool before I could grind them. These were the ingredients…
I heated the tsp of oil in a kadhai/ wok on high heat. We just need a little bit of oil to prevent initial burning and sticking. In a few minutes, the coconut starts releasing it's own oil. I added the garlic to the hot oil (yes I know the garlic was beginning to sprout!)…
Then the coconut…
And then the red chillies, each broken into half to let the seeds out…
Mixed it up and dry roasted these on medium-high heat for a few minutes…
I roasted these until they were golden-brown and then placed them in the grinder to allow them to cool…
While the chutney ingredients were roasting, I got things ready for the vada filling. These are some of the ingredients…
Then I mashed the potatoes (see how tiny they are?!?!) roughly with a fork.
Chopped the chillies. (If you want the flavour and not the heat of the chillies, then you can de-seed them).
And the garlic.
Grated the ginger (using my TINY grater, which I use expressly to grate ginger and coconut).
Then I heated the tempering oil in the kadhai. And added the mustard seeds to it till they sputtered like crazy!
Added the asafoetida.
And the curry leaves. At this point, I suggest you literally chuck the leaves in and run for your life because the oil sputters and splashes to heights you would never have imagined. I don't think hot oil likes curry leaves very much!! Anyhow I don't have a picture because I refused to let AK take pictures of me running with my face scrunched up in fear!
Next, I added the haldi. (You can see the wilted & settled curry leaves in this picture)
Once the haldi had mixed in well with the oil, I added the chillies, ginger and garlic.
After frying for about a minute, I added the potatoes.
Added salt and stirred it up.
Cooked it, covered, for about 5 minutes on medium heat and then took it off to cool slightly. It needs to be handle-able because we're going to shape and fry them in a few minutes! Keep them covered until needed so they remain moist.
On to the batter. First, I measured out the besan.
Added salt and baking powder.
And haldi.
Mixed it up and added enough water to make a thick paste like batter. This is slightly easier to handle because we need to shape the potatoes, coat them in this batter and fry. If the batter is too runny, then it won't stick to the potato balls.
(Update, 15th Aug 2015: a little thinner consistency than seen in the following photos is better – enough to stick to the potato but makes a lighter outside covering, leaving the potato to be the hero)
Then I put the oil for frying in the kadhai and placed it on high high. While it was heating, I divided the potatoes into 6 (sort of) equal portions and proceeded to shape them into balls.
Then I dipped each in the besan paste/ batter…
And placed them gingerly in the hot oil…
In batches of 2.
Using a slotted spoon, I flipped them over and kept an eye on them till they turned golden.
And when nice and (sort of) evenly golden on all sides, I lifted them out with the slotted spoon, drained as much oil as I could against the side of the kadhai and placed them on paper towels to drain more oil.
Here are all 6,with blobs of the fried left over batter (I didn't want to just throw it away! But couldn't do anything else with 2 tbsp of batter!
While I was frying the vadas, I also ground the chutney ingredients along with salt.
It looked grainy and dry, since we didn't add any liquid to it. I discovered later that some recipes also add a dash of tamarind paste to it, so I'll do that next time! But this looked and tasted pretty good as is!
(Update, 15 Aug 2015: using fresh coconut instead of desiccated makes the chutney a little less dry. A dash of water and juice of half lemon while grinding makes the consistency spreadable and tastes better too)
To assemble, I halved and warmed each pav on a tawa (griddle) for 30 secs, spread the chutney on both sides and placed a vada in the middle. Adding a fried chilli to each, I closed them up like a burger and served with extra chutney on the side.
I love it when (street-food-at-home) plans come together – a la Hannibal from A-Team!
PS: Although I wouldn't recommend forgoing the chilli garlic chutney, you could use green dhaniya-pudina chutney instead.
[wpanchor id="vada-pav-recipe"]Vada Pav Recipe
Home-made Vada Pav (Pao)
Recipe type:
Quick Snack/ Street Food
Ingredients
6 pav bread
4-5 medium sized potatoes, boiled & peeled
1 tsp mustard seeds
4 stalks curry leaves
¼ tsp haldi (turmeric powder)
Pinch asafoetida
1 tsp salt
2 large cloves of garlic, minced
1-1/2 inch piece ginger, grated
4 green chillies, chopped finely (adjust as per spice threshold)
½ cup besan (gram flour)
¼ tsp baking powder
½ tsp salt + ¼ tsp haldi for the batter
Water to make batter
1 tbsp vegetable oil for tempering
Vegetable oil for frying

For the chilli garlic chutney:
1 tsp vegetable oil
⅓ cup garlic cloves
⅓ cup fresh or frozen grated coconut (can use ¼ cup dessicated/dry shredded coconut if needed)
4 whole dried red chillies, broken in half (adjust according to spice threshold)
½ tsp salt
Juice of half a lemon, approx 1 tbsp

To serve: 6-8Whole fried green and/or red chillies
Instructions
To prepare the chutney, heat 1 tsp of oil in a kadhai (wok) or a skillet. Break the red chillies in half and add them to the hot oil along with the coconut and garlic. Fry these on medium heat, stirring often, until they darken a few shades and are fragrant. Approx 5 minutes. Remove from heat and set aside to cool.
For the vadas, mash the potatoes on a plate and set aside.
Heat 1 tbsp of oil in a kadhai and add the mustard seeds. When they begin to splutter, add the curry leaves, the haldi, the chopped green chillies, ginger and garlic. Fry for a minute before adding the potatoes and salt. Toss well to coat.
Cover and cook for about 5 minutes. Remove from heat and set aside until needed. Keep covered to retain moisture.
Make the batter by mixing the besan, salt, haldi, baking powder in a bowl and adding enough water to make a smooth and slightly runny batter. Set aside.
Finish making the chutney by grinding it to a smooth paste in a processor/ grinder, adding the lemon juice and a splash of water. Set aside.
To fry the vadas, set the oil to heat in a kadhai. While it is heating, divide the potatoes into 6 portions and roll them into neat balls.
Once the oil is hot, dip each potato ball in the batter, coat well and drop into the hot oil. Fry in batches of 2-3 until they are golden. Remove onto paper towels and allow excess oil to drain.
To assemble the vada-pavs, break or cut the pavs into half and warm them slightly on a tawa (griddle).
Spread each half with some chutney, place between the halves, add a fried chilli and close like a burger to serve.
Serve the extra chutney on the side.
Notes
Although these are best served fresh, the vadas can be made earlier in the day and warmed up in the oven/tawa before assembling them.