Indian Chinese & American Chopsuey in the same sentence/ title was not a typo. I swear. When I tried to Google "American Chop Suey", Wikipedia threw up this, which further led me to this. The kind that I'm used to, doesn't exist in an online definition exactly. There are pictures and references and similar dishes. But not the exact same thing, which is a beloved, fool-proof, safe item in any Indian Chinese menu – whether in a restaurant or on the street. It's right up there with momos and chow-mein (again, I couldn't find any reference/ recipe online for the Indian kind – so I'll make sure I post it soon)!
This dish is one of AK's favourites, specially when ordering in. Available at pretty much every Chinese restaurant (except the "authentic" variety), it is a simple dish of pan fried noodles topped with a choice of meat in sweet & sour sauce and a fried egg. The most easily available options are usually chicken or vegetables, followed by pork.
Although I love the concept of the dish, I find that the sauce is usually too sweet and corn-starchy for my taste. I decided to try my own version which was tangy-er and spicy-er! It wasn't quite as complicated as I thought. It was more about prep-and-assembly than serious complication. Now that I've figured out the process, my next attempt might be a fancier one with prawns or pork.
Here's what I used for 2 people:
4 medium chicken breasts (later decided I could have done with 2-3)
2 tbsp all-purpose flour
sprinkling of salt+pepper to season chicken
2 medium carrots
4 spring/ green onions
1 green capsicum/ bell pepper
1 tbsp each freshly pounded ginger & garlic
4-5 green chillies, sliced into 3-4 pieces each
1 tsp red chilli powder (optional)
1 tsp freshly ground black pepper
1/3 cup fresh lemon juice
2 tbsp sugar
2 tbsp soy sauce
4 cups chicken stock or 1 stock cube+4 cups water
salt, to taste
2 tbsp cornflour
200 gm packet of dried egg hakka noodles
vegetable oil to deep fry noodles
4-5 tbsp of oil to stir fry vegetable and chicken
1 semi-soft fried egg to top each serving
Here's how I made it:
Gathered the veggies – carrots, spring onions and capsicum.
Washed, peeled (where necessary) and cut them up into thick matchsticks, keeping each vegetable seperate because I wanted them all slightly crunchy and each has a different cooking time.
Keeping these aside, I placed a large saucepan of water to boil, adding 1 tsp salt to it. Once it came to a boil, I added the noodles to it and lowered the heat to mediukm, cooking for exactly 1 minute.
I needed them cold and seperated so I drained the water out, rinsed lightly with cold water, seperated them with a fork and left the noodles in the colander, forking through them every 5-10 minutes while I got everything else ready. Because they have been only half cooked, they wont be all that sticky anyway.
The next step was to get the sauce ingredients ready. I mixed the lemon juice, soy, chicken stock cube, sugar & 4 cups water and brought the whole mix to a boil, stirring occasionally. (Since I wanted the lemon and sugar to shine through, I used only 1 stock cube. For 1 litre, the recommended stock is 2 cubes/ litre.)
Once it came to a boil, I took the liquid off the heat and set it aside. I did this because I was using stock cubes rather than ready stock. Personally, I feel that the cubes should be brought ot a boil with the other liquids before using, even though there is no such instruction on the packaging. If you are using ready stock, then just mix everything well and keep aside.
I seasoned the chicken breasts by sprinkling on a little salt and pepper and let them rest while I stir fried the veggies.
In a large wok, I added 2 tbsp vegetable oil and placed it on high heat. Once the oil was shimmering, I added the carrots and stir-fried for about a minute.
Then I added the capsicum and spring onions (reserving the onion greens till the very end) and cooked for another minute.
Lastly, I added the onion greens and cooked for another minute.
Stirring in a generous pinch of salt, I took the veggies off the heat and set them aside.
Setting the wok back on the heat with 2 more tbsp of vegetable oil, I dredged each chicken breast through flour until well covered and placed it in the pan to fry on high heat.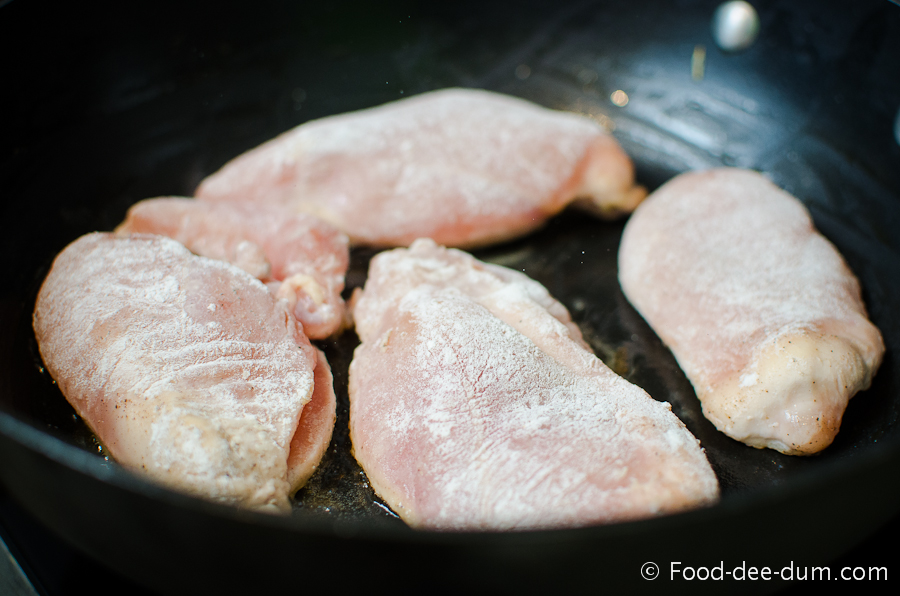 I fried them on high heat for 2 minutes on each side – till the outside was nicely browned and the inside was still a little moist and raw. Taking them off the heat and draining the breasts with a slotted spoon, I sliced them into thin strips and kept them aside.
On second thought, I shouldn't have done this. I should have sliced the chicken when it was raw and then seasoned, dusted and fried it. That way, each strip would be browned on all sides. This way, the top and bottom of each strip was browned and left the sides white and open to drying up. The even frying seals in all the juices and keeps each piece extremely moist.
Now for the sauce!
I placed the same wok back on high heat with the oil from the chicken frying. Adding in the ginger, garlic and green chillies, I fried them for a minute, stirring continuously.
Then I added the sauce liquid and brought it back to a boil. Once it came to a boil, I added the chicken pieces and cooked for another 2-3 minutes.
I tasted the sauce and felt that it lacked heat, despite the green chillies. So I added 1 tsp of red chilli powder and stirred it in (this is completely optional so please judge for yourself)! I also added the freshly ground pepper.
Adding some water to the cornflour in a bowl, I stirred it to make a smooth paste and slowly poured it into the chicken, stirring to avoid lumps.
As I continued to stir the sauce, it thickend in under a minute and I added the stir-fried vegetables to the sauce.
Finally, I checked the salt, gave it one last stir and took it off the heat in a minute. The sauce was done and chicken cooked!
Keeping the sauce aside, I heated some vegetable oil in another wok. Testing the oil with 1 noodle, I added 1/3 of the boiled noodles to fry.
These need to be stirred/ seperated/ flipped with a fork often avoid sticking and also to encourage even browning. I had to fry the noodles in 3 batches because of the size of my wok. They need to be watched carefully because the transition from white to deep yellow golden is pretty slow, but from there till dark brown and burned is very quick. They should be crisp and look like this when you take them out…
As soon as I was done with all 3 batches, I was ready to assemble.
First, the noodles…
Then the chicken and sauce…
And finally, the fried egg on top!
I thought the spice and tang ratio was perfect, but AK just had to add more chilli paste, more out of habit than taste! I'm so excited that this recipe has opened a whole new door of pan-fried noodle dishes for me!
Note:
When you make this, reduce the chicken/ other meat proportion a little bit. I had much more of the chicken and gravy than the noodles.
Also, slice the chicken/ meat thinly before seasoning, dusting and pan frying it. It will result in more moist and juicy meat.
While deep frying the noodles, give the oil a minute between batch to re-heat. They will fry better.