Or yet another way to take advantage of Raw Mangoes in the summer!
And of course, spend minimum time labouring over a meal in this ridiculous summer heat! This idea was born simply out of the fact that I had 1 raw mango in the fridge and I didn't feel like "cooking" and stirring a pot over the stove for an hour! So I wondered if I could make a Thai Papaya salad with raw mango instead. That led to a "I-must-try-this-right-away" surge of energy and off I went to make this Thai Style Beansprout & Raw Mango Salad. And I was not disappointed.
My bubble only burst when my cousin (who lived in Singapore for a while and visit Thailand a lot) said that Raw Mango Salad (is just like Raw Papaya Salad) and is a real thing. Which means I didn't actually come up with the bright idea all on my own! Which also means that I'm not as awesome as I sometimes think I am!
I made a big portion and had this salad, by itself, for lunch. But it's perfectly suited to a side salad or even a starter/ appetizer avatar.
Here's what I used for 1 large serving:
1 raw mango (approx 200 gms)
1 cup beansprouts
1/4 cup peanuts
2 tbsp fish sauce (can easily be substituted with soy sauce)
1 tbsp chilli oil (can be substituted with vegetable/ sesame/peanut/ soybean oil + 1/2 tsp red chilli powder)
1 tsp brown sugar (can be substituted with white sugar/ jaggery/ honey)
Pinch of salt & red chilli powder
Fresh cilantro leaves for garnish
Here's how I made it:
(It's so simple that I don't even know if I want to call it a recipe!)
First I peeled and sliced the mango very finely – into thin, long matchsticks. If you don't cut them thin enough then each bite may be too khatta (sour)!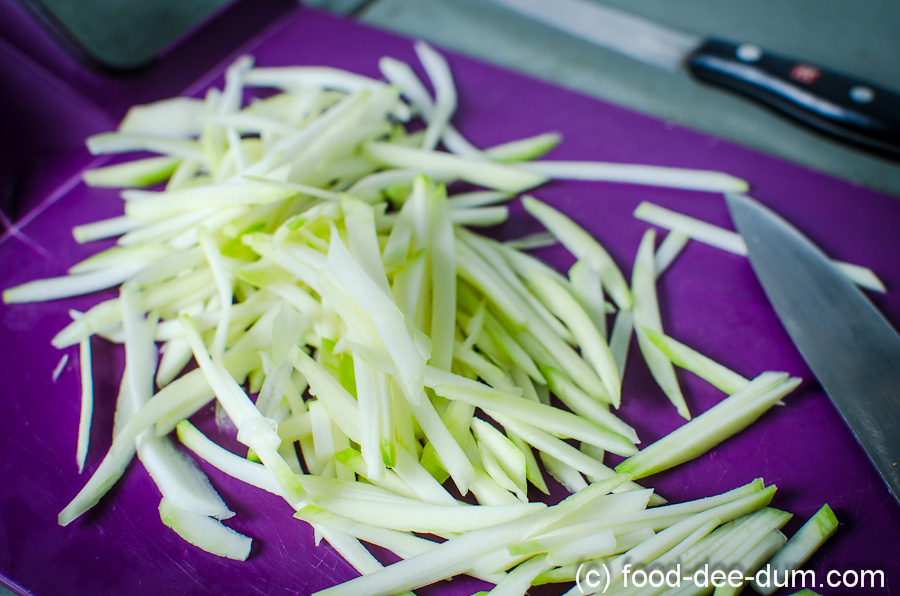 Placing these in a bowl, I sprinkled them with the sugar and pinches of salt & red chilli, mixed everything and set it aside to marinate for a few minutes while I got the rest ready.
I resisted the urge to eat the mangoes like this and toasted the peanuts in a pan on the stove till browned!
Allowing these to cool for a while before crushing them, I got out the beansprouts. I guess you can make these at home, but I prefer to simply buy them from the vegetable vendor. They store well in the fridge for upto 3-4 days, wrapped in a slightly damp kitchen towel.
To get the dressing ready, I whisked together the fish sauce and chilli oil in a bowl with a fork till combined.
I mixed it together with the raw mangoes, beansprouts and peanuts in a bowl.
I garnished the salad with fresh cilantro before serving.
That's it. We're done.
Yes. It's really that easy! And did I mention refreshing?
Notes & Variations:
Additional layers of flavour could be a some toasted coconut flakes and shredded fresh basil.
To make a heartier, more filling (main-course type) version, you can add some cold, boiled noodles to the salad. Regular hakka/ chowmein/ egg noodles will do or even Thai rice noodles.
Some grilled chicken or prawns could be a nice addition. Or even some pan-fried and crumbled tofu.
If you make the salad with raw papaya, then you can add some lemon juice/ vinegar to the dressing. I thought it might be too much, considering the sourness of the mangoes.
This recipe has also been featured in Archana's Kitchen.