Today, for the first time, I actually have a festival post ready on time! I'm so excited. Usually I'm too disorganised to actually cook, arrange things and take photos in time. But I tried extra hard this time.
What I didn't do in the process is stick to an "authentic" recipe! Whenever it is my turn to make Payasam for Onam or Vishu, I usually make the Sevaiyii Payasam — which I find is not too different from our North Indian kheer. So I tried to find other kinds of Payasam online and came across many but broadly they are of 2 types – milk base or jaggery+coconut milk base. The grain or body can be made of a variety of things like rice, dal, sevaiyii, dalia/ sooji gothambu, bananas etc. So I thought I would begin with the dalia version, which seems to be made with the coconut milk + jaggery base. The traditional jaggery payasams have a deep brown colour and intense flavour – because of the specific kind of jaggery available in Kerala. It is different from what we get here in Delhi, but in a pinch our kind will do.
I love jaggery but AK won't go anywhere near coconut milk unless hoodwinked – so I compromised and mixed it all up! Read on and find out for yourself.
Dalia is called Sooji Gothambu in Malayalam – which is why I have shared both names.
Here's what I used for about 3-1/2 cups of payasam – serves 5-6:
1 litre whole (full cream) milk
1/2 cup dalia/ sooji gothumbu
1 cup grated jaggery (or jaggery powder if you have it)
1 bay leaf
3 cloves
4 green cardamom
handful each of cashew and raisins
2 heaped tbsp thinly sliced/ flaked coconut
4 tbsp ghee
Here's how I made it:
Like many Indian milk based sweets, the milk needs to be cooked and reduced before it can be used further. Since I wanted to concentrate on that properly when it was time, I decided to prep everything else and keep it absolutely ready.
I measured out the Dalia.
And the dry fruit.
The whole spices.
Grated the jaggery.
Broke the coconut and sliced some.
Heating a skillet on high flame, I added 2 tbsp of ghee and added the dry fruit – cooking it till the raisins were puffed and the cashews were golden brown. I did this in 2 batches because I had reserved a few whole pieces for garnish and chopped up the rest.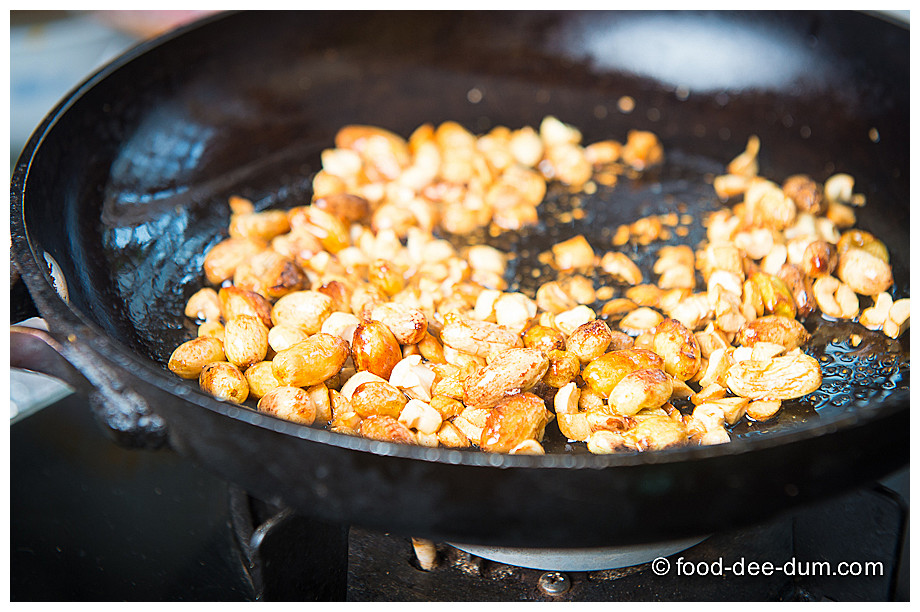 Taking the dry fruit out of the skillet, I added the coconut slivers and toasted them (without adding any extra ghee) until they were golden. I should have slivered them finer but I guess I need to improve my knife skills!
Removing the cocount from the skillet and keeping it aside, I added the remaining 2 tbsp of ghee and heated it. Adding the whole spices, I roasted them for 1-2 minutes, till fragrant.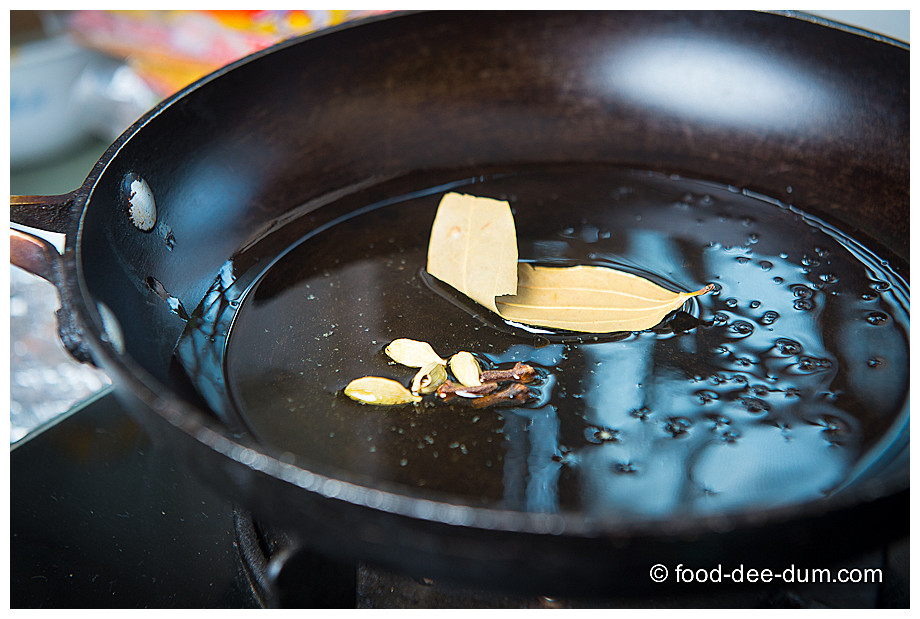 Removing them from the skillet and keeping them aside, I added the dalia to the spiced ghee and roasted it on medium heat till golden brown. This should be done on medium-low heat and stirred constantly to avoid burning and encourage even roasting – about 15 minutes.
As soon as this is done, it should be removed from the heat and moved onto a plate to keep aside. Leaving it in the pan may result in burning due to residual heat.
Now for the hard (or rather, long part). In a heavy bottomed steel saucepan, I poured the milk and placed it on medium heat. It needs to be stirred all the time — with a wooden spoon — scraping the bottom and sides to make sure it doesn't stick and burn. It will surely ruin the payasam if the milk burns so watch it like a hawk.
We need to reduce the milk by almost half, so approximately to about 500-600 ml. I kept an eye on the volume markers in my pan but you can eyeball it. If you're not used to reducing milk, then lower the heat to low once the milk reaches a rolling boil –  continuing to stir it continuously and vigourously. Don't burn yourself in the process.
I kept it between medium and high (because I've done this a few times before) so I managed in about 20-25 minutes but at low-medium heat it should take about 35-40 minutes.
Once the desired level was reached, I reduced the heat to minimum and added the roasted spices and the grated jaggery, stirring to combine well. Grating the jaggery or using jaggery powder was important so that it would melt and combine evenly.
As you can see, the milk changed colour once the jaggery melted. Next, I added the roasted dalia and stirred it up. This is important to ensure that no dry pockets exist else that dalia will remain raw.
Placing a tight fitting lid on the saucepan, I let it cook on the lowest heat setting until the dalia had absorbed most of the liquid, about 15-17 minutes. I did stir it occasionally to ensure that it wasn't sticking at the bottom.
I opened the lid and added the roasted dry fruits and coconut slivers.
Stirred it up and was ready to serve.
And serve topped with the reserved dry fruit and coconut! I like it best when it cools, but it tastes great when hot or warm as well. It will do well in the fridge for upto 2-3 days.
Happy Onam to all of you!