Or, my foolproof, cheat recipe for Eggless Strawberry Soufflé
(Before I'm called out by food bloggers, chefs and fellow foodies all over the world, I'll be the first to admit that this is not a classic, authentic soufflé recipe. It fact, it's not technically a soufflé at all. It contains no eggs and it isn't baked. This is a cheat recipe that one of the home economics teachers in school taught me and you can make this out of store cupboard ingredients – she called it a "quick eggless soufflé" and that name just stuck.)
I've made it often, over the years, to serve as an impromptu dessert at home. Or a sweet-treat in the summer for ourselves. The fruit flavour is variable, depending on the season and the availability of the core ingredients. You can make it with fresh fruits or just the packaged ingredients. What I love about it is that it's uncomplicated and involves minimal effort, yet the result is quite sophisticated.

It has the light, airy texture of a soufflé along with the fresh sweet-yet-tart flavours of strawberry, all achieved without the techniques and know-how needed to make a traditional soufflé – no need to whip egg whites into a frenzy, or carefully fold ingredients or bake. It's quite a perfect cheat actually.
The base ingredient is a flavoured jelly packet. I found a whole lot of fresh strawberries at my local fruit vendor and so I picked strawberry jelly. You can make this with or without using fresh fruit, but I highly recommend with. It elevates the flavour and texture to a whole new level.
Here's what I used:
(Makes 6 generous servings)
2 cups chopped strawberries, plus more to garnish
2 heaped tbsp castor sugar, plus more to taste
1 (100 gms) packet of Strawberry Flavoured jelly
1 (400 gm) carton of curd
1 (200 ml) carton of fresh cream
Optional garnish – lightly sweetened whipped cream & mint sprigs
Here's how I made it:
First, I hung the curd to drain off the excess water. I like to do this first so that it has some time to drain. I like to create this apparatus where it hangs off a spoon balanced on a colander placed in a shallow bowl so that I can place it in the fridge, rather than hanging over the sink at room temperature. (If this last sentence made NO sense to you, then please look at the picture below). I could just be imagining it but I feel that it doesn't sour as much in the fridge as it does outside at room temperature.
Then, I washed and hulled the strawberries. Chopped them up roughly (no need to be precise because they're going to get mashed up anyway) and placed them in a bowl. I then sprinkled 2 tbsp castor sugar on them and mixed well before keeping them aside until needed.
Then I made the jelly according to the instructions on the packet, with one small change. I halved the amount of water instructed on the packet. E.g. the brand that I used recommended 500 ml boiling water, but I used only 250 ml.
Make sure you whisk the liquid well to ensure that all the flavour and jelly crystals have melted and dissolved. I threw in the chopped strawberries along with all the juices and poured the whole lot into a 9×9 inch shallow glass dish. (Shallower the better because it will set faster).
I popped this in the fridge to set in the fridge until semi-solid, about 1 hour. It looked a bit like this (I broke it up a little to show you).
By this time, the hung curd had also reduced by almost half and become thick & creamy.
To make the soufflé, I placed the jelly, the hung curd and the cream in my stand mixer and beat with the paddle attachment on high speed for about 5 minutes until well combined.
I wasn't quite happy with this because I could still see pretty solid globules of the jelly and I feared that it wouldn't set again. While I liked the chunky-ness of the fresh strawberries in this case, the large globules of jelly didn't work for me.
So I popped the whole mix into the blender and gave it a quick whizz for 2-3 minutes until it was a smooth puree. I took a quick taste and added a little more sugar, about 2 tbsp. You can adjust this according to your taste.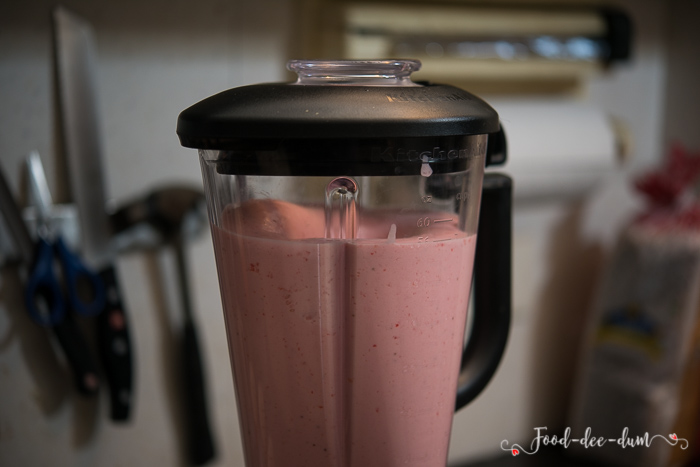 I poured this mixture into 6 individual ice-cream bowls and placed them in the fridge to set until firm, about 3-4 hours.
When you check the soufflé, don't look for a firm or hard set like a moulded jelly. It should have just a little wiggle but hold it's shape if you tilt the bowl. Once you're sure it has set, garnish and serve as you like.
I chose to pretty it up with some lightly sweetened whipped cream and fresh strawberries.
And there you go…
When I poured the mixture out of the blender jar, I was a little concerned that the bubbles and froth from the blending process would take away from the dessert. On the contrary, it added to the airy-ness of dessert and I think that in the future, I will always use the blender and not bother with the stand mixer.
As usual, AK didn't even wait for the camera and lights to be cleared away before he dug in. And I took advantage by getting a quick photo!
Didn't I promise that it has the flavour, texture and look of a sophisticated soufflé, without the effort & technique required to make one? During the time when I was in college, this was my regular go-to for a quick fruit pudding. I've made this in the past with other flavours like orange and mango and most generic supermarket brands of jelly work perfectly well. It's a great recipe to have in your repertoire for an impromptu dessert craving or a last minute gathering at home. Put it together and pop it in to set just before your guests arrive and it will be ready by dessert time!
Note: if you don't have fresh fruit available, you can make it with just the jelly+hung curd+cream as well. In that case, try and add in a few drops of the complimentary flavour extract as well or the mildness of the fruit flavour may disappoint.
Like this recipe? Check out some more dessert and pudding recipes from the archives:
Baked Caramel Bars with Dark Chocolate Ganache, Strawberry Crumble, Easy No Bake Lemon Bars, Coconut Flan with Peaches, 10 Minute Chocolate Almond Balls
Same time, last year:
One Year Ago: Mulled Wine
Two Years Ago: Kashmiri Kahwah
Three Years Ago: Spiced Pineapple Upside Cake
Four Years Ago: Bread & Butter Pudding
[wpanchor id="strawberry"]Recipe for Eggless, No-Bake Strawberry Soufflé | Printable Version
Eggless, No-Bake Strawberry Souffle
An easy cheat to a complex dessert recipe - no egg, no baking, no complicated techniques and yet yields a light and airy soufflé texture with the fresh flavours of strawberry.
Recipe type:
Dessert (Custards & Puddings)
Ingredients
2 cups roughly chopped strawberries, plus more to garnish
2 heaped tbsp castor sugar, plus more to taste
1 (100 gms) packet of Strawberry Flavoured jelly
1 (400 gm) carton of curd
1 (200 ml) carton of fresh cream
For Garnish:
Lightly sweetened whipped cream
Mint sprigs

Equipment & Serveware Used:
Instructions
Empty the curd into a muslin cloth and hang this to drain out the water until it is needed. Ideally, try to hang it in the fridge to minimise sourness.
In a bowl, place the chopped strawberries and add in 2 tbsp of castor sugar. Stir it in and allow this to sit so the strawberries let out their juices.
Prepare the jelly according to the package instructions with one small change - halve the amount of water called for. E.g. if your package instructions ask you to use 500 ml of boiling water, you should use 250 ml.
Once all the jelly crystals have dissolved, turn on the heat and add in the strawberries along with all the juices.
Pour this into the glass dish and allow it to set in the fridge until partially set, about 1 hour.
When the jelly is partially set, break it up and transfer it to your blender jar. Add in the hung curd and the cream. Blend until smooth.
Check and adjust sugar to your taste and give it a quick whizz again.
Pour this into 6 individual cups/bowls or one large bowl and place it back in the fridge to set until firm. About 3-4 hours. It should hold shape but still have a little wiggle - not a hard set like jelly.
Serve cold, garnished with whipped cream and fresh strawberries.
Notes
Keeps well in the fridge upto 2-3 days so you can make this in advance. In this case, leave the whipped cream and fresh strawberry garnish until the last minute.
---
Please note that this post has affiliate links and if you buy products using these links, it will help support the blog. I will only recommend products that I personally use and/or trust for my family.