Super Simple Microwave Meringue Crisps a.k.a. Meringue for Dummies
For the longest time, I steered clear of any recipe which called for whipping egg whites. It just sounded complicated and the chances of failure always seemed high. But off late, I've found some love for whipped egg whites. I can use up the (discarded) egg whites when I make lemon pie or pudding, it lightens cake batter for a soft sponge, gives waffles a lovely lift and crispness. And so much more. It seems I've conquered my fear, for now!
Unfortunately, this is not the recipe where I help you do the same. These meringue crisps take an incredibly short time to make and are delicious too. Light, crisp, sugary, melt-in-your-mouth treats. And they're so simple to boot. No complicated ratios. No intricate technique. No delicate handling. Can you believe it? Because frankly I couldn't!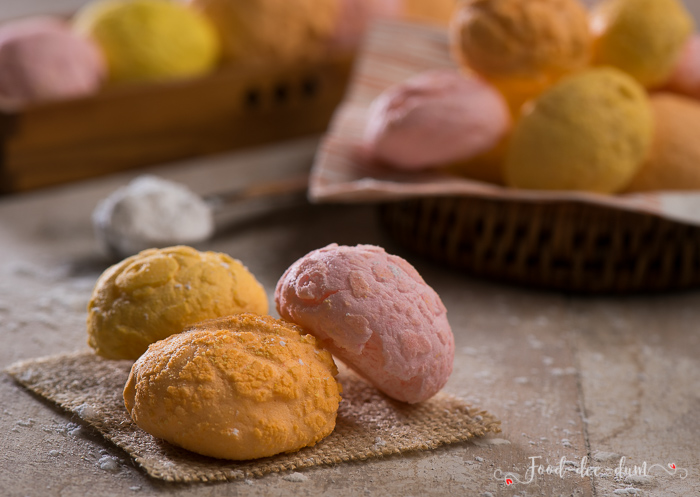 And they store very well in airtight cookie jars. So serve these with some strong coffee for instant gratification. If you have last minute guests make a quick (but very fancy schmancy) dessert by layering these crisps up with fresh fruit and whipped cream – berries, mangoes, kiwis go beautifully with these.
If you're feeling adventurous, make many more colours and flavours. They're so adaptable and you can go nuts playing around.
This is another in the series with Ragini, my little teen(y)-helper over the summer! Get to know her by skipping ahead here. To know more about this series and to see more recipes put together with her, check those tagged #funcookingforteens and #ragziinthekitchen.

Why I like this recipe | Ragini Malhotra
Whenever people talk about "meringue", it sounds complicated and technical, something that requires some serious skill and experience. But my grandmother taught me this simple version that requires only 2 ingredients and takes less than 10 minutes to put together. And no, there are no technical skills involved!
Here's the step-by-step:
Tip: while separating the egg, make sure not even a speck of yolk gets into the whites. If it does, discard or use this egg elsewhere. Also, the bowl+whisk must be absolutely clean, free of grease and moisture.
(Our microwave is 900W so if yours is higher or lower powered, you may need to adjust the time accordingly. The only way to tell is to try one small batch and adjust.)
Once fully cool, they will be brittle and sound hollow when tapped (almost like a table tennis/ping pong ball)! These are perfect as a sugary treat along with you tea/coffee. Or even better when served with fresh fruit and barely sweetened whipped cream.
PS – Avoid consuming close to bed-time because you will get a sugar rush!
Like this recipe? Try some other confectionary from the archives: Baked Caramel Bars with Dark Chocolate Ganache, Kulkuls (Sugar Glazed Dough Curls), Indian Style Atta Biscuits, 10 Minute Chocolate Almond Balls, Easy No Bake Lemon Bars.
Same Time Last Year:
One Year Ago: Homemade Dulce de Leche
Two Years Ago: Instant Ginger Pickle
Three Years Ago: Ruggedly Loaded Brownies
[wpanchor id="meringue"]Recipe for Easy Microwave Meringues | Printable Version
Easy Microwave Meringues
Super easy, 2-ingredient meringue crisps, made in the microwave. Serve as sugary treats with tea/coffee or top with fresh fruit & barely sweetened whipped cream for a luscious dessert
Recipe type:
Dessert & Confectionary
Ingredients
1 egg white
250 gms icing sugar
Gel food colour & flavour extract of your choice (Optional)

Tools & Equipment Used:
Instructions
In a glass mixing bowl, whisk the egg white until frothy and doubled in volume. No need to worry about peaks and stiffness.
Sift the icing sugar over the egg whites, little at a time, and mix well between each addition. It will get glossy and smooth and then become more dough-y. Continue to add and mix until it forms a soft and pliable dough.
If adding colour and/or flavour essence, do so now and mix. If it makes the dough wet & sticky again, add a few more spoons of icing sugar to bring it back to the right texture.
Use a melon baller to scoop out equal portions and roll them into smooth balls.
Place them on a large plate lined with kitchen paper, leaving at least 2" space between them, as they will puff up on cooking.
Microwave them in batches of 3-5, depending on the size of your microwave, on High/Full Power for 1 min 30 secs per batch.
Remove from the kitchen paper immediately (and carefully as they will be hot) to avoid sticking and transfer to wire racks to cool completely. They should sound hollow when tapped (almost like a ping pong/table tennis ball).
Once cool, store in airtight jars or good quality ziplock bags.
Serve as is as a sugary treat along with tea/coffee or top with fresh fruit and barely sweetened whipped cream.
---
Please note that this post has affiliate links and if you buy products using these links, it will help support the blog. I will only recommend products that I personally use and/or trust for my family.
SaveSaveSaveSaveSaveSaveSaveSaveSaveSaveSaveSave
SaveSave
SaveSave