Maharashtrian Shengdana Chutney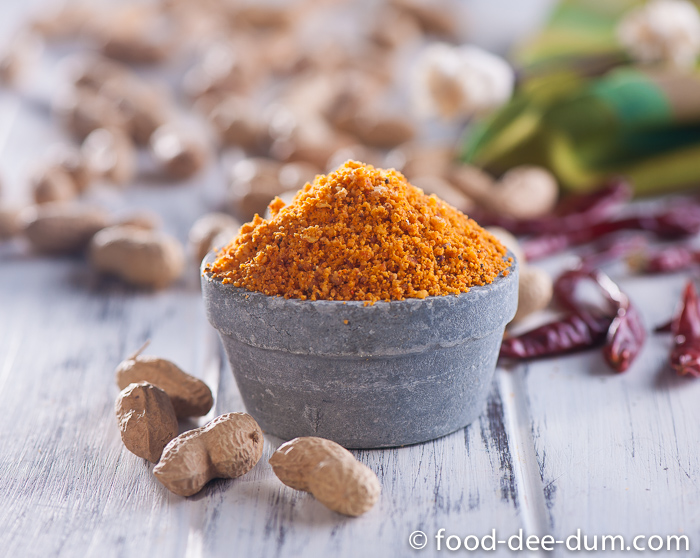 Recipe type:
Chutneys & Sauces
1 heaped cup of raw, shelled peanuts (~200 gms)
4-5 whole dry red chillies (or as per your heat threshold)
4-5 pods of garlic|
1 heaped tsp toasted jeera (cumin) seeds
1 tsp salt
½ tsp deggi mirch powder (red chilly powder, with more colour than heat)
¼ tsp haldi powder (dry turmeric powder)
Equipment Used:
Using a tawa or skillet, roast the peanuts on medium heat until the skin becomes papery and starts falling off and the peanuts get dark brown spots on them. Approximately 7-8 minutes
Take these off the heat and allow them to cool on a tray. You can even speed up the process by putting these under a running fan.
Once cool, remove as much of the skin as you can by rubbing the peanuts between your hands to loosen the skin so you can dust or blow them off.
Place the peanuts in the medium jar of a grinder, along with the garlic pods, jeera and red chillies, and pulse a few times until they are rough chunks.
Add the salt, deggi mirch and haldi and grind further until it forms a grainy powder and everything is combined. Make sure you stop short of it becoming clumpy and releasing all it's oils.
Store in a clean jar in the fridge. Will last 3-4 weeks.
Recipe by
Food-Dee-Dum
at https://food-dee-dum.com/2014/10/10/maharashtrian-shengdana-chutney/