Lemony Garlic Spaghetti with Grilled Chicken & Pine Nuts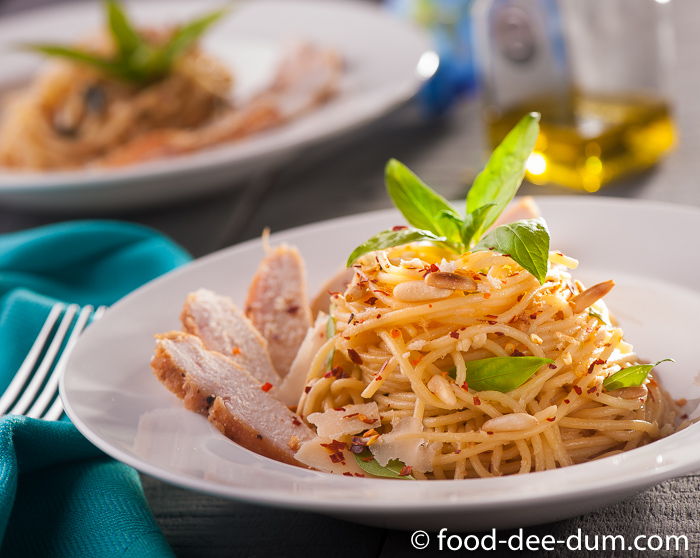 Recipe type:
Pasta & Noodles
2 boneless chicken breasts
Zest & Juice of 3 lemons (approx 6 tbsp lemon juice)
Salt & Pepper to taste
4 tbsp fresh or dried breadcrumbs
2 tbsp pine nuts (or chilgoza, it's Indian cousin)
1 tbsp canola oil (you can use any neutral vegetable oil)
150 gms Del Monte Spaghetti
2 tsp salt
water to boil pasta (about 3 litres)
2 tbsp butter
2 tbsp extra virgin olive oil + extra to drizzle on top
3 tbsp garlic, minced
2 tsp red chilli flakes, plus extra to serve
Handful of basil leaves, torn
⅓ cup grated parmesan cheese, plus extra to serve
Equipment Used:
Flatten the chicken breasts to an even thickness by pounding them with a meat mallet or a rolling pin. Season with salt and pepper. Place these in a shallow bowl and pour the lemon juice over them. Set aside.
In a skillet, toast the breadcrumbs and pine nuts (separately) for a few minutes until golden. Set aside.
In the same skillet, heat the canola oil and pan-grill the chicken. Lift the chicken out of the marinade, leaving the lemon juice behind.
Begin by searing the breasts for 1 minute on either side and then cover with a tight fitting lid. Lower the heat and cook for about 7 minutes or until done. Remove onto a plate and keep covered until needed. Leave the pan juices in the skillet.
Set the water to boil to cook the pasta, adding salt to it. Once it comes to a boil, add the pasta and cook until al dente as per packet instructions, approx 7 minutes.
While the pasta is cooking, heat up the chicken skillet again. Add the butter. Once it melts, add the olive oil.
Once it has warmed up, add the garlic and fry on medium heat for a minute. Add the red chilli flakes and gently fry for another minute. Add the lemon juice and other leftovers from the chicken marinade to the skillet and cook, stirring, for another minute or until slightly thickened.
Lift the cooked pasta from the water and add to the sauce, along with a splash of the pasta water. Stir until well coated.
Add the lemon zest and the torn basil leaves, reserving a few for garnish. Toss well to coat and remove from heat.
To serve, divide the pasta amidst 2 bowls.
Slice the chicken breasts and arrange over the pasta.
Sprinkle with more parmesan cheese, red chilli flakes, freshly cracked black pepper, toasted pine nuts and toasted break crumbs.
Drizzle with olive oil and garnish with some fresh basil.
Serve hot.
Recipe by
Food-Dee-Dum
at https://food-dee-dum.com/2015/08/17/lemony-garlic-spaghetti-with-grilled-chicken-pine-nuts/