Mulled Wine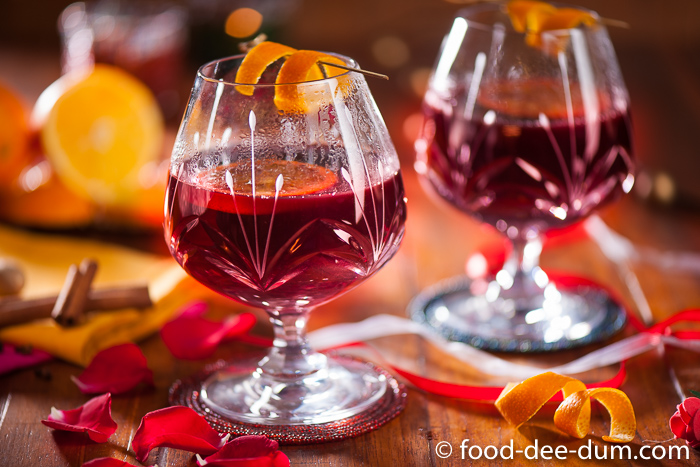 Recipe type:
Cocktails & Beverages
¼ cup lightly packed brown sugar
¼ cup vanilla sugar (can use plain castor sugar)
2 medium sized oranges, plus 1 for garnish
½ cup water
1 stick cinnamon
6 cloves
10-12 gratings from 1 whole nutmeg
1 x 750 ml bottle red wine (any inexpensive Cabernet/Merlot)
¼ cup brandy
¼ cup Drambuie (or any other orange/citrus liqueur)
Equipment Used:
Using a sharp paring knife, peel the skin from 2 of the oranges. Avoid the bitter white pith. You can even use a zester if you like.
Set the peel aside and juice these oranges, you should get approximately ½ cup juice.
In a medium saucepan, place the sugars, the peel, the spices and mix together. Smush everything together using your fingertips or the back of a ladle to extract as much oil and essence from the peels and infuse into the sugar.
Add the orange juice and ½ cup water to the sugar-n-spice mix. Place this saucepan on high heat and cook, stirring, until the sugar dissolves. Reduce the heat to medium and cook until the liquid becomes syrupy, about 3-4 minutes. Turn of the flame.
Add the brandy, Drambuie and wine to the saucepan and stir to combine. Return the saucepan to heat at the lowest setting and simmer for 30 minutes. Remove from heat, strain and serve, garnished with a slice of fresh orange and some peel.