Ham & Cheese Cucumber Subs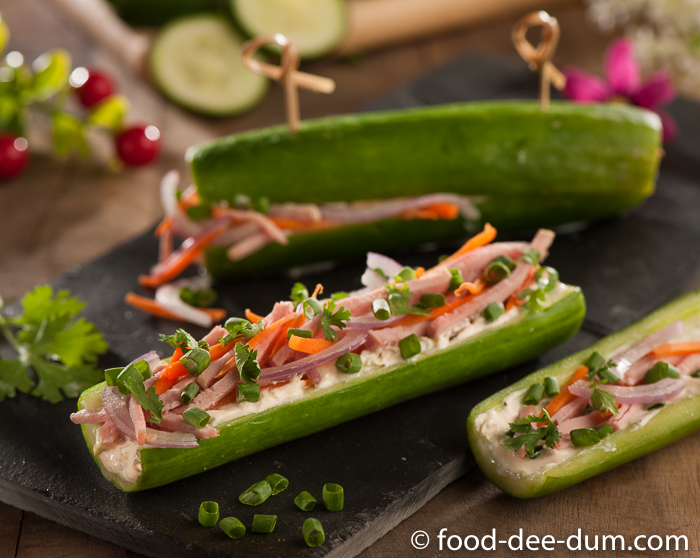 4 medium sized cucumbers
4 tbsp soft goat cheese, or cream cheese
2 young spring onions, including the green parts, chopped finely
1 clove garlic, minced
⅛ tsp paprika powder
Salt & Pepper to taste
½ cup loosely packed ham strips (approx 50 gms)
1 medium carrot, julienned
½ medium red onion, sliced thinly into half-moons
Chopped cilantro leaves, for garnish
Chop off the ends of the cucumbers and slice in half lengthwise. Using a peeler or a small spoon, remove the seeds and hollow out the centres making place for a filling.
Place these upside down on paper towels to drain off excess water.
In a small bowl, mash the goat cheese, garlic, paprika powder, salt & pepper, spring onions together. Reserve some of the spring onion greens for garnish
To assemble the subs, divide the cream cheese mixture amidst the 8 cucumber halves. Set 4 of the halves aside to be the top of the subs.
In the remaining 4 halves, top the cheese mixture with the ham strips, carrot juliennes and onion slices.
Garnish with the spring onion greens, cilantro leaves and close off the subs using the 4 reserved top halves. Use cocktail sticks to hold them together.
Serve right away while they are fresh and crunchy.
Variation: In case you want to serve these as appetizers, you can cut them into smaller bite sized servings with a cocktail stick holding each together. Or you can cut the cucumber into smaller pieces & hollow out the centre like kulliya.
Recipe by
Food-Dee-Dum
at https://food-dee-dum.com/2016/07/08/ham-cheese-cucumber-subs/