Rum-n-Raisin Pound Cake with Rum Butter Syrup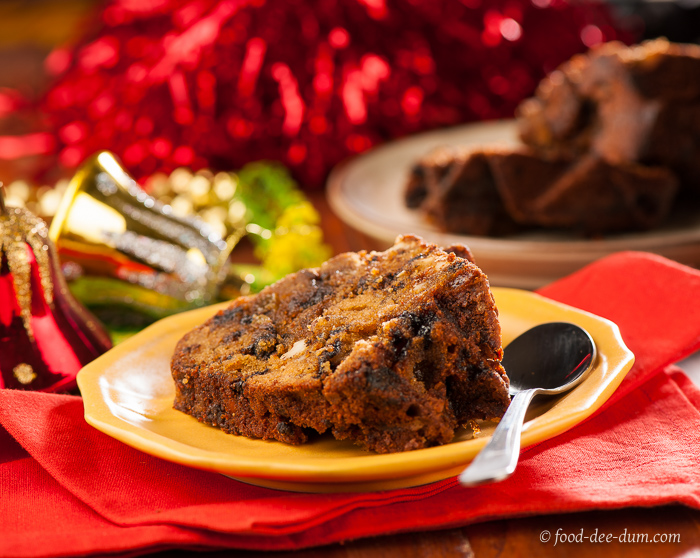 For the Cake:
1.5 cups raisins
½ cup dark rum
½ cup cold brew coffee (or brewed coffee, cooled to room temperature) - optional
2-1/4 cup all purpose flour
1 tsp baking powder
½ tsp salt
1-1/4 cup unsalted butter, room temp
1-2/3 cup lightly packed brown sugar
5 large eggs
2 tsp vanilla extract
1 cup dark chocolate chips
Generous handful chopped cashew nuts
For the Rum Butter Syrup:
¾ cup unsalted butter
1-1/2 cups brown sugar
Pinch salt
½ cup dark rum
Equipment Used:
Stand Mixer (buy here)
Bundt Pan (buy here)
Silicon Spatula (buy here)
Soak the raisins in the rum and coffee and let them sit for 1 hour or overnight.
When ready to bake, turn on the oven to pre-heat at 180°C and set the rack in the middle.
Prepare the bundt pan by brushing it well with melted butter and dusting with flour.
Whisk the flour, baking powder and salt together until well combined.
In the bowl of a stand mixer, place the butter and sugar together and beat on high speed for 3-4 minutes, until pale and fluffy.
Add the eggs, 2 at a time, and beat well between each addition. Add the vanilla extract along with the last egg and beat until well incorporated.
Add the flour mixture in 2 batches, folding gently using a spatula just until no floury streaks remain. Do not over-mix.
Add the drained raisins (reserve the liquid), chocolate chips and chopped cashew nuts and mix. If required, add a few tablespoons of the rum-coffee liquid to loosen the batter so that it's at dropping consistency.
Spoon the batter into the prepared bundt pan, level and bake for about 1 hour or until a skewer inserted in the middle comes out clean.
While the cake is baking, make the Rum Butter Syrup.
Cube the butter and place in a heavy bottomed saucepan. Set on medium heat allow the butter to melt.
Add the sugar and whisk until it melts and mixes with the butter, making a thick, sticky, caramel-y mixture. Let it simmer for 4-5 minutes, stirring occasionally.
Turn off the heat and add the rum as well as the reserved rum-coffee liquid and whisk well until combined. If you didn't use the coffee then you may not have any liquid left - in this case add ¼ cup of water along with the rum. Allow this to cool to room temperature.
Once the cake is done, pull it out of the oven and allow it to sit for 5-10 minutes. Using the back of a knife, loosen the cake from the pan and poke plenty of holes all over the surface using a skewer.
Pour ⅓ of the syrup very slowly over the cake. Allow it to sit for 10 minutes before upturning onto a cake plate or cooling rack.
Once it's been upturned, poke many more holes. Pour the rest of the syrup, slowly and by the spoonful until it has all been absorbed.
Allow it to cool to room temperature before slicing and serving the cake.
Store at room temperature in an airtight box for 7-10 days.
Recipe by
Food-Dee-Dum
at https://food-dee-dum.com/2017/01/06/rum-n-raisin-pound-cake-with-rum-butter-syrup/