Citrus Syrup Cake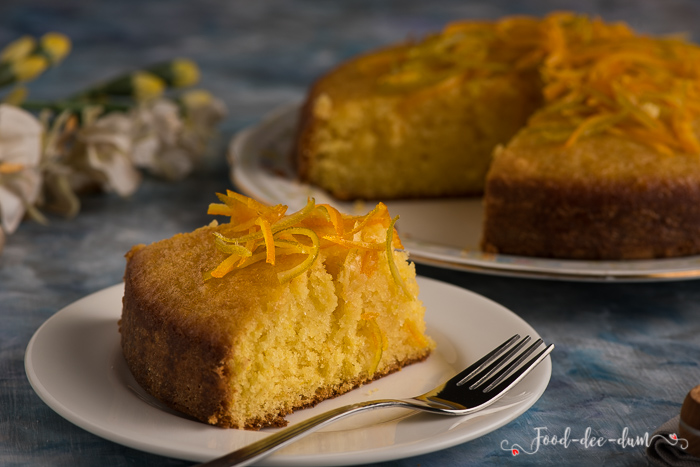 Recipe type:
Cakes & Desserts
1-1/4 cup AP Flour
¾ tsp baking powder
⅛ tsp baking soda
⅛ tsp table salt
½ cup (100 gms) softened, unsalted butter (plus more to grease pan)
¾ cup powdered sugar
2 eggs
½ cup full-cream (whole) milk
2 mausambi (sweet lime)
2 malta orange
2 lemons
For the syrup:
½ cup granulated sugar
Equipment Used:
Turn on the oven to pre-heat at 175° C and prepare the round cake pan. Line it with parchment paper, grease with butter and dust with a little flour. Keep it aside.
Grate the zest off 1 each mausambi, malta and lemon using a microplane zester. Using a paring knife, peel the remaining fruit and slice the peel very thinly for the garnish. Set aside.
Using a citrus juicer, juice all the fruits and set it aside.
In a mixing bowl, whisk together the dry ingredients - the flour, salt, baking powder and baking soda. Set aside.
In the bowl of a stand mixer, place the powdered sugar, softened butter and grated zest and beat on high speed for 4-5 minutes until light and fluffy. Scrape down a few times in between to ensure even mixing.
Add the eggs, one-at-a-time, beating on medium speed after each addition.
Add the flour and milk in parts, alternatively, mixing on low after each addition just until combine. Begin and end with the flour (so flour-milk-flour-milk-flour).
For the last flour addition, remove the bowl from the mixer and fold in gently with the spatula.
Spoon the batter into the prepared cake tin, level and tap on the counter to even out and allow trapped air bubbles to escape.
Bake in the centre of the oven for about 25 minutes, or until a toothpick inserted into the middle comes out clean.
While the cake is baking, prepare the syrup. Place the juice, granulated sugar and sliced citrus peel in a heavy bottomed saucepan and bring to a boil. Stir continuously to make sure the sugar dissolves.
Once it comes to a boil, simmer for about 10 minutes before removing from heat.
Strain out the peel and set aside for garnish. Transfer the syrup into a glass measuring cup for easy handling.
Once the cake is done, allow it to cool in the pan for about 10-15 minutes before transferring it to a wire rack. Place this wire rack on a baking sheet to catch extra syrup.
While the cake is still warm, poke it liberally and evenly using a toothpick to make more crevices that can absorb the syrup.
Using a spoon, slowly pour the syrup over the cake. Much will drip into the baking sheet at the bottom. Collect all that syrup and repeat as many times as necessary to finish all the syrup.
Once all the syrup has been absorbed, allow cake to cool completely.
Garnish with the sliced peel and serve cold.