Or kinda-sorta-rocky-road-brownies.
You know how I've been ranting about "light baking" recently? The last few times that I baked, I made this muffin and this tea cake and this biscuit. I was very proud of how quick and "healthier" these bakes were. The thing is, I really do love this kind of baking, where I can reach for multiple slices and feel a little less guilty than with some other kinds of cake and dessert.
But sometimes, my reader receives a magazine item like this. And those are the days when I feel the urge to indulge in a whole lot of chocolate! I mean, who can resist? It's the solution to everything.
So this past Sunday, I whipped open my fridge door to look at what I had in stock. Surveying the contents, I found dark chocolate, white chocolate, some milk chocolate chips, kaaju chikki (or cashew praline, if you want to be fancy) and marshmallows! So I decided to go with an adaptation of these brownies and topping ideas from these. The base brownie recipe, by the way, tops the one that I earlier thought was the best. But I'm learning too, so I'm sure you'll forgive me!
This is what I ended up with — moist fudgy brownies with a topping that was chewy & crunchy all at once!

Here's what I used:
(For 16 brownies or a 8″ x 8″ cake pan)
125 gms dark chocolate
100 gms butter
1 cup powdered sugar (if you can use 1/2 white and 1/2 brown sugar, that's even better)
2 eggs
1 tsp vanilla
1/2 cup flour
Toppings (the quantities are approximations as I didn't weigh or measure them. Instead I just grabbed as much as I felt like at the moment):
75 gms white chocolate
50 gms milk chocolate chips
50-60 gms cashew praline
10 marshmallows, cut into 4 pieces each
Here's how I made them:
First, I set the oven to pre-heat at 180 C and prepped the 8×8 cake pan by lining it with butter paper and lightly greasing it with butter and dusting with flour.
Then I cubed the room temperature chocolate and butter in a microwave-proof bowl and popped it in the microwave for 30 secs.
Since the "room temperature" in my home was over 40 C, the chocolate and butter (which had been lying outside for about an hour) were already pretty soft and melted in one 30 sec burst of the microwave. If you live in a cooler place, you should give it another 30 sec burst or two, stirring with a dry metal or wooden spoon between each until they have both melted and are one smooth sauce.
To this, I added the sugar and vanilla and stirred vigorously, until the sugar had melted and incorporated into the buttery chocolate.
Ensuring that the mixture was back at almost room temperature, I added the eggs one at a time and stirred between each to incorporate. The mixture thickens a little at this point. The temperature of the chocolate is important at this stage because, if it is hot, then the eggs can curdle and ruin the whole batch.
I measured out the flour and added it in, stirring until there were no more flour-y streaks.
I poured the batter into the prepared cake pan and gently banged it on the counter to even it out and set it aside.
I gathered all the topping ingredients and roughly broke and/ or chopped them into small pieces. Basically, I quartered the marshmallows and then approximately matched the size of the other toppings — the white chocolate and the chikki. The chocolate chips were good to use, as is.
Sprinkling the toppings evenly over the top of the brownie batter, I popped the pan in the oven for 25 minutes.
When I tested it with a toothpick, the centre was still pretty gooey, so I reduced the heat to 150 C and gave it another 8-10 minutes.
Now, tempting as it may be, I have learned the hard way that brownies have to be LEFT ALONE after baking. You must not take them out of the pan or cut them or sneak a bite until they have cooled down completely. So about 30-35 minutes in the pan and then another 30-40 minutes once you take it out (on a wire cooling rack).  Only when they cool completely, will they cut easily, without breaking up. And they become fudgy only once completely cool. If you cut into them too early, they will be squishy and not hold their shape.
If you like brownies warm, then you can always re-heat them in the microwave for a few seconds, but the initial after-bake-cool-down is very, very important.
I discovered that, wherever the praline/ chikki was at the edge (touching the pan), it stuck and the butter paper stuck to it. So maybe I'll be more careful and place it away from the edge next time. None of the other toppings got stuck so it went well!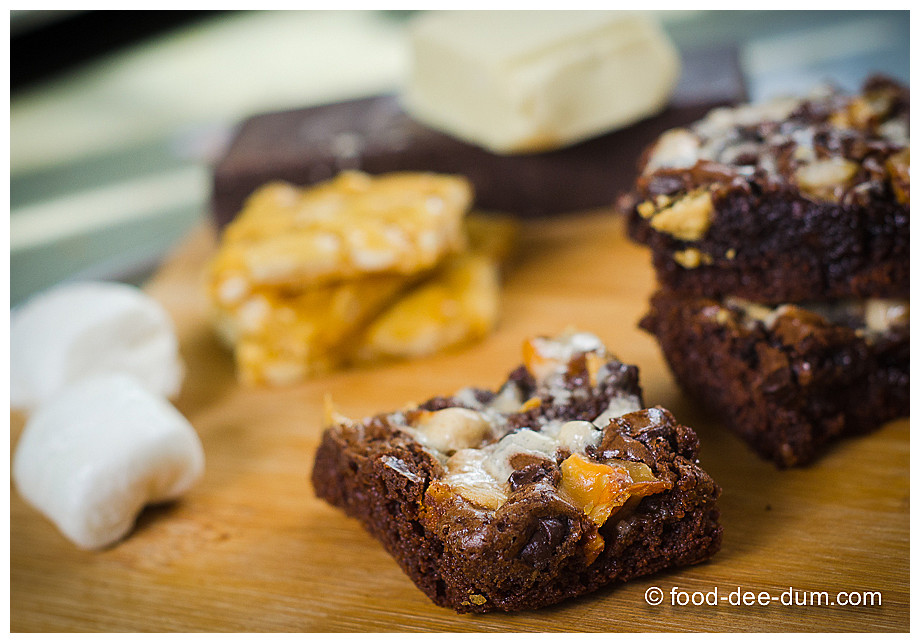 We enjoyed these as is, with vanilla ice cream, with milk and again, by themselves. My personal preference for a good brownie is at room temperature or even cold, but you should warm these babies up if that's what works for you!
Yes. I took a greedy sneaky bite. You would too, if you baked these today. I guarantee it.
Notes:
I used dark chocolate for the brownie but you can use milk chocolate too. It will be a litte sweeter and a little less intense, but still delicious.
If you can use 1/2 cup brown sugar and 1/2 cup white instead of all-white, then that would definitely improve it.
The toppings were inspired by Rocky Road Brownies/ Ice Cream (Marshmallows, Caramel Chocolate and Walnuts/ Almonds) but I just used what I had. You can use any combination of nuts, caramel chocolate like 5 Star/ Bar One/ Mars, white chocolate, milk chocolate, even Bounty or Twix, marshmallows (if they are easily available). The permutations and combinations for this are endless.
[wpanchor id="brownie"]Recipe for Ruggedly Loaded Brownies
Ruggedly Loaded Brownies
Easy yet indulgent dark chocolate brownies topped with marshmallows, praline & chocolate chips.
Recipe type:
Cakes & Muffins
Ingredients
125 gms dark chocolate, chopped
100 gms butter, cubed
½ cup powdered white sugar
½ cup brown sugar
2 eggs
1 tsp vanilla
½ cup flour

Assorted toppings:
marshmallows, cashew praline, white chocolate chunks and milk chocolate chips - or anything else you prefer.
Instructions
Pre-heat oven to 180 C and prepare an 8″x8″ cake pan by lining it with butter paper/parchment paper and lightly greasing and flouring it.
Place the chopped chocolate and butter in a dry and clean microwave-proof dish and microwave at HIGH in bursts of 30 secs, stirring between each, until melted and combined to make a smooth sauce.
Add the sugar and vanilla and stir vigorously until sugar melts and is incorporated with the chocolate sauce.
Ensuring that the chocolate mix has cooled down, add the eggs on at a time, stirring to combine between additions.
Add the flour and stir until no flour-y streaks remain.
Pour this batter into the prepared cake pan and keep aside.
Break/ chop the topping ingredients into bite sized pieces and sprinkle evenly over the batter.
Bake for about 25 mins. Check by inserting a skewer/ toothpick in the centre. If it is still gooey, reduce the heat to 150 C and give it another 8-10 minutes.
Remove the pan from the oven and let the brownies cool in the pan for about 30 minutes. Lift out from the pan using the paper and cool on a wire rack for a further 30-40 minutes before cutting them into squares.
Serve warm or at room temperature by themselves or with vanilla ice cream or whipped cream.